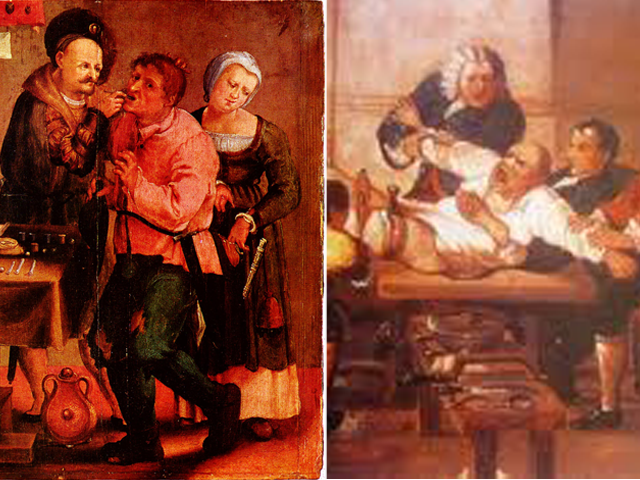 A Brief Historical Perspective on Dental Implants, Their Surface Coatings and Treatments
This review highlights a brief, chronological sequence of the history of dental implants. This historical perspective begins with ancient civilizations and spotlights predominant dentists and their contributions to implant development through time. The physical, chemical and biologic properties of various dental implant surfaces and coatings are discussed, and specific surface treatments include an overview of machined implants, etched implants, and sand-blasted implants. Dental implant coatings such as hydroxyapatite, fluoride, and statin usage are further reviewed.
The history of the evolution of dental implants is a rich and fascinating travelogue through time. Since the beginning of mankind, humans have used dental implants in one form or another to replace missing teeth. In approximately 2500 BC, the ancient Egyptians tried to stabilize teeth that were periodontally involved with the use of ligature wire made of gold. Their manuscripts and texts allude to several interesting references to toothaches. About 500 BC, the Etruscans customized soldered gold bands from animals to restore oral function in humans; they also fashioned replacements for teeth from oxen bones. At about the same period, the Phoenicians used gold wire to stabilize teeth that were periodontally involved; around 300 AD, these innovative peoples used teeth creatively carved out of ivory which were then stabilized by gold wire to create a fixed bridge. The first evidence of dental implants is attributed to the Mayan population roughly around 600 AD where they excelled in utilizing pieces of shells as implants as a replacement for mandibular teeth. Radiographs taken in the 1970's of Mayan mandibles show compact bone formation around the implants-bone that amazingly looks very much like that seen around blade implants! Moreover, around 800 AD, a stone implant was first prepared and placed in the mandible in the early Honduran culture.
From Rocks to Roosters- Early Implants Emerge
In the middle of the 1600's periodontally compromised teeth were stabilized in Europe with various substances. From the 1500's to about the 1800's, teeth in Europe were collected from the underprivileged or from cadavers for the use of allotransplantation. During this period, Dr. John Hunter came on to the scene; for many years he worked with "resurrectionists"-people who acquired corpses underhandedly through the robbing of graves. By doing so, he was able to observe and document with great detail the anatomy of the mouth and jaw. In the 1700's, Dr. Hunter suggested transplanting teeth from one human to another; his experiment involved the implantation of an incompletely developed tooth into the comb of a rooster. He observed an extraordinary and astonishing event: the tooth became firmly embedded in the comb of the rooster and the blood vessels of the rooster grew straight into the pulp of the tooth [1, 2]. In 1809, J. Maggiolo inserted a gold implant tube into a fresh extraction site. This site was allowed to heal and then a crown was later added; unfortunately, there was extensive inflammation of the gingiva which followed the procedure. Innumerable substances during this time period were used as implants; these included silver capsules, corrugated porcelain, and iridium tubes.