Implant Design consists four classifications.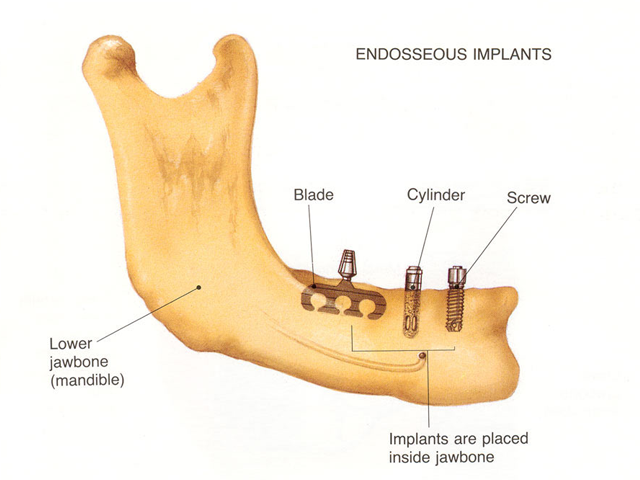 What is Endosteal Implant?
American Dental Association told:
An endosteal implant is a type of material inserted or grafted into tissue. Dental implants are devices specially designed as a dental replacement. This device is placed into the alveolar and basal bone of the mandible or maxilla and transects only one cortical plate.
Functional Benefits of Implants
Dentist of America told:
Regardless of the type of implants you receive, you will enjoy improved oral function. The implants will be firmly rooted in your mouth, and they will never slip out of place. This can improve your confidence when eating and speaking, it will also afford you complete dental function. You will even be able to eat whole apples, celery, chewy bread, and other hard-to-eat foods.
Implants Are Convenient.
American Dental Association told:
If you currently wear a removable restoration, you know that your synthetic teeth can be hard to care for. Special cleaning solutions and routines can be a hassle, especially when you are out and about. Because implant-supported restorations are permanently fixed in your mouth, they typically require the same care as natural teeth. Brushing, flossing, and routine dental visits should keep your restorations looking beautiful and natural.
Cosmetic Advantages of Implants
American Dental Association told:
Missing teeth can dramatically impact your appearance. Therefore, any type of dental restoration will improve your smile and self-confidence. With implants, your crown, bridge, or denture will rest right along your gum line. Thus, it will be virtually identical to natural teeth. Additionally, Dr. Hellwig works with a top-notch dental lab. Your restoration will be crafted from advanced materials. It will be custom made to complement the shape of your mouth.
Written By Admin Name

If you have any quary to us or me please write to my email address or make a call at our hotline.
View all posts by: Admin