Implant Design consists six classifications.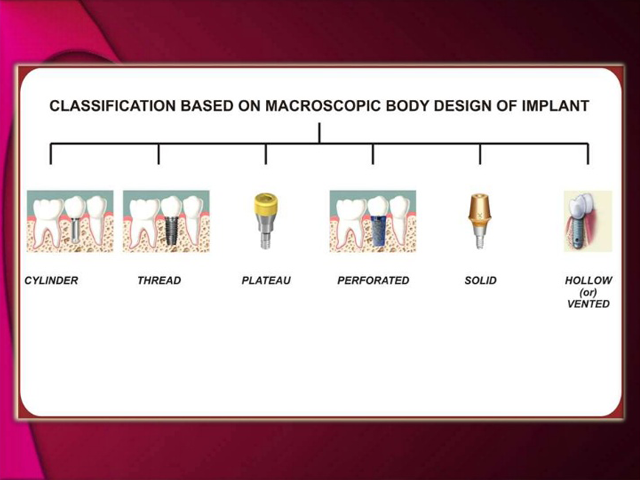 What is Microscopic Implant?
American Dental Association told:
The loss of just one tooth will eventually have a global impact on the entire stomatognathic system. Bone loss, shifting of teeth, occlusal changes, decreased bite force and many more effects are felt throughout the entire system [1-3]. In attempt to prevent the progression of these effects, dentistry has continually searched for the ideal tooth replacement. With the advent of dental implants, clinicians can now restore patients higher levels of health and function than ever before.
The deleterious effects of tooth loss have been well know for centuries. As early as 600AD we have evidence of early Honduran civilizations attempting to implant seashells as replacements of a missing tooth and root complex [9]. As an alternative to replacing the entire tooth complex, the profession of dentistry has also created innovations targeted at replacing just the coronal aspect of the deficient site. An example of this would be the classic three unit fixed dental prosthesis to replace an extracted maxillary molar. This modality of treatment presents many attractive features.
Classification of Macroscopic Implant?
1. Cylender,
2. Thread,
3. Plateau,
4. Perforated,
5. Solid,
6. Hollow,
CYLINDRICAL DENTAL IMPLANTS
This type of implant will be in the form of cylinder and it depends on coating or surface condition to provide microscopic retention and bonding to the bone. It is pushed or tapped into a prepared bone site Straight, tapered or conical.
THREADED DENTAL IMPLANTS
The surface of the implant is threaded, to increase the surface area of the implant. This results in distribution of forces over a greater peri-implant bone volume.
PLATEAU- DENTAL IMPLANTS
Plateau shaped implant with sloping shoulder.
PERFORATED DENTAL IMPLANTS
The implants of inert micro porous membrane material (mixture of cellulose acetate ) in intimate contact with and supported by the layer of perforated metallic sheet material (pure titanium).
SOLID DENTAL IMPLANTS
They are of circular cross section without vent or hollow in the body.
VENTED DENTAL IMPLANTS
It is hydroxy apetite coated cylinder implant patented vertical groove connecting to the apical vents were designed to facilitate seating and allow bone ingrowth to prevent rotation.
HOLLOW DENTAL IMPLANTS
Hollow design in the apical portion. Systematically arranged perforations on the sides of the implant Increased anchoring surface.
Written By Admin Name

If you have any quary to us or me please write to my email address or make a call at our hotline.
View all posts by: Admin