Implant Design consists four classifications.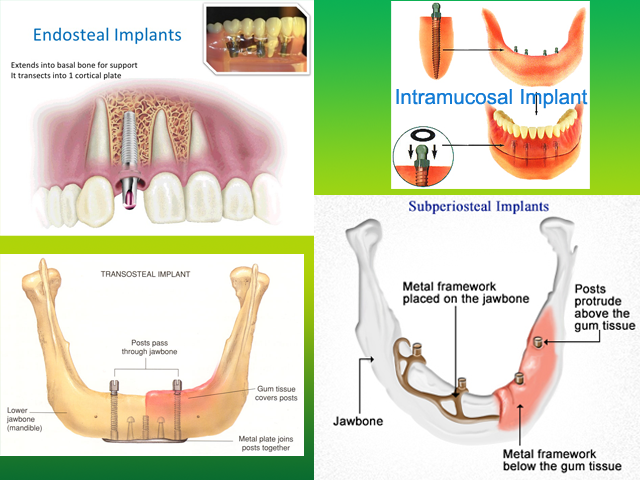 What is Endosteal Implant?
American Dental Association told:
An endosteal implant is a type of material inserted or grafted into tissue. Dental implants are devices specially designed as a dental replacement. This device is placed into the alveolar and basal bone of the mandible or maxilla and transects only one cortical plate.
What is Subperiosteal Implant?
One renouned Dentist of America Dr. Benjamin S Fiss told:
A subperiosteal implant is placed onto the bone rather than into the bone, similar to a saddle. This type of implant is used most often to cover a large surface area, such as a completely edentulous mandible where there has been a severe amount of bone resorption and not enough bone to support endosteal implants. Although most of the implant structure is under the gum tissue, posts or bars remain exposed above the gums. The superstructure (denture or partial) attaches to these posts.
What is Transosteal Implant?
American Dental Association told:
Dental devices designed for implantation through the mandibular bone (i.e., transosteal or transosseous). These implants typically consist of screws that are inserted through the bone, penetrating the entire jaw and emerging at the bottom of the chin where they are secured with a nut and a pressure plate. Transosteal implants are usually made of alloplastics (e.g., metal) materials; titanium (and/or titanium alloy) is the most frequently used metal due to its ability to become incorporated in the bone structure (i.e., fused to the bone, known as osseointegration). Standard transosteal dental implants are available in a variety of sizes and shapes, including implants appropriate for individual teeth, several teeth (i.e., bridges), and complete denture support; this type of implant is no longer frequently used in current dental practice.
What is Intramucosal Implant
American Dental Association told:
This technique is described here because it is not typically found in many popular dental implant texts. The technique was developed by Dr. Gustav Dahl in the 1940's. It is worth studying for those who desire a more complete understanding of implant dentistry. Photographs may be seen in the Color Photo Atlas on the top of this page under the Implant section.
Written By Admin Name

If you have any quary to us or me please write to my email address or make a call at our hotline.
View all posts by: Admin